Product Description
Explosion protection to
-CENELEC
-IEC
-NEC
Can be used in Zone 1 and Zone 2, Zone 21 and Zone 22.
Class I, Zone 1 and Zone 2
Class I, Division 1, Group C,D
Three enclosure types: 90, 160, 250
Applicable lamp and power(max:250W)

Isolated LED lamp compartment, CC-CV(constant current-constant voltage)power controller compartment and terminal compartment; Wind-convection heat dissipateion structure.
Standard product is of floodlight effect, loens of 40 ° and 60°, can be provided on request to realize spotlight effect.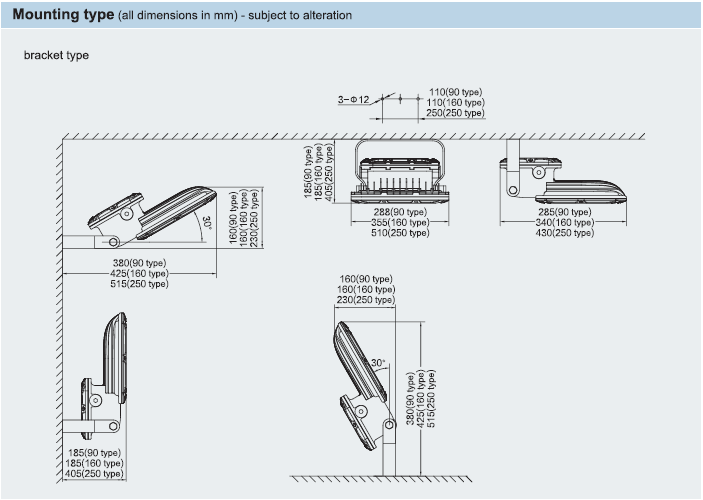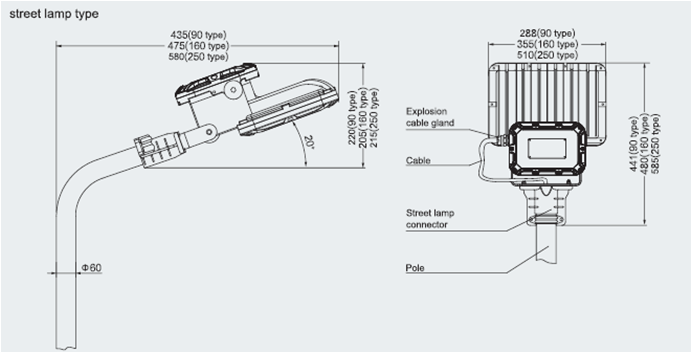 BAT 86 Explosion proof LED Floodlights
Specification
Gas and dust
Exdb IIB+H2T Gb
Ex tb IIIC T1} Db IP65
Conformity to standards
EN 60079-0. EN 60079-1 . EN 60079-31
IEC 60079-0, IEC 60079-1, IEC 60079-31
Material
Enclosure
Copper-free Aluminium Alloy, powder coated surface, yellow (RAL 1021)
Glass cover
Toughened glass, stands 4J impact
LED driver
Wide voltage input, CC-CV (∞nstant current - constant voltage) output, power
factor≥0.95, with function of distributed current, constant current, surge-proof and
anti-electromagnetic interference, and protection against overcurrent, open circuit,
and short circuit
Exposed fastener
Stainless steel
Lamp
Lamp specification
LED module,Multiple LED
Lamp power (W)
60W, 90W (50W and 70W are optional)
Colour Temperature (CCT)
Cool white: 5400~6500K
Note: cool white is available in general. Warm white or nature white is optional,
please specify when ordering.
Rated voltage
100-300V AC 50/60Hz
Earthing protection
M5 (internal & external earth bolts)
Ingress Protection:
IP65
Ambient temperature
T6/T80°C for Tamb:-40°C+/-40°C

T5/T95°C for Tamb:-40°C+/55°C

Terminal
3 x 1.5~4mm² (L +N+PE)
Movable type, fixed type, street lamp type
Cable entries
2 x M25 x 1.5 plugs
Cable gland
DQM-II(Ex d) or DQM-III (Ex d) is recommended. Please see P7/20-27
Win3 Group, which established in 2003, specializes in design and production and research and development of intelligent mining LED lighting/Miners Headlamp/ and safety equipment, Win3 team dedicate to provide global mining enterprises with safe& intelligent miner's lamps and safety solutions. Our products cover Cap Lamps,Miners Lamp,Floodlight/Chargers/Charging rack/Gas Detector,Heat Stress Detector,Dust Monitor,Air Purifier etc. We strive to improve safety and enhance efficiency of global mining and industrial enterprises, sincerley hope that we can build a long standing win-win business relationship with friends overseas.